You'd be living under the rock to not have heard of Shiseido Syncro Skin Self-refreshing. Actually, jk, I take that back cos I didn't even know about this foundation until recently. So I got this foundation and today, we'll be diving into the nitty-gritty, necessary information we need to know before making a decision to purchase the Shiseido Syncro Skin Self-refreshing foundation. It is described as self-refreshing with buildable coverage, let's see if it lived up to this claim.
Product Description
The Shiseido Syncro Skin Self-refreshing Foundation is a non-comedogenic weightless foundation with ActiveForce technology that makes it self-refreshing. The impressive formula is infused with SPF 35 that enhances the skin's texture and tone. It is a long-lasting fluid foundation that blends into the skin and has resistance against heat, oil and humidity, to maintain a fresh look for up to 24 hours.
It also safeguards against air pollution adherence on the skin that can lead to premature ageing by creating a protective veil that helps prevents micro-particles in the air from adhering to the skin.
Quoting directly from their website, it is "A SHISEIDO first in foundation that self-refreshes nonstop with ActiveForce™ technology. Our long-wearing fluid foundation synchronizes with skin and helps resist heat, humidity, oil and facial movement to maintain a just-applied, flawless finish that lasts 24 hours. Weightless. Breathable. Blendable. Buildable"
How Many Foundation Shades Does Shiseido Syncro foundation Come In ?
The Shiseido Syncro foundation comes in a total of 30 shades that match all skin shades and skin tone.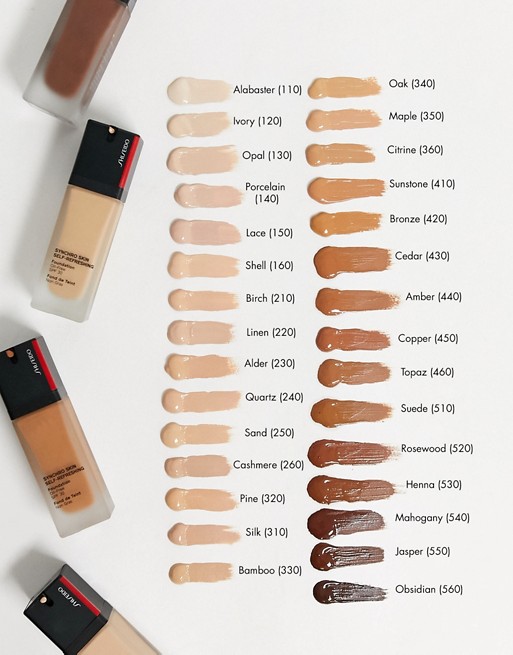 Shiseido Syncro Skin Self-refreshing Foundation Review
Just as the name implies, the Shiseido Syncro skin refreshing foundation that provides all-day natural freshness and hydration that is resistant to sweat, oil and water. I'd say it was true to its claim to a good extent. It is absolutely gorge for those long days in the office (or long nights on the town!) I haven't used it much (many thanks to my endless amass of foundations), but few times I have, this foundation gave me impressive results.
I always find myself mixing and matching to get my perfect shade of foundation however I'm always thrilled whenever I find one foundation that is a perfect match just like I did with Fenty Beaty hydrating foundation.
The Shiseido Syncro Skin Self-refreshing Foundation has a liquid consistency that isn't thick, the coverage is buildable, so you can apply a bit more to cover spots, redness, and other blemishes. A little of this foundation, however, goes a long way in giving a good medium coverage and it's very easy to blend out. It delivers breathable and buildable coverage that lasts all day, you won't look too caked.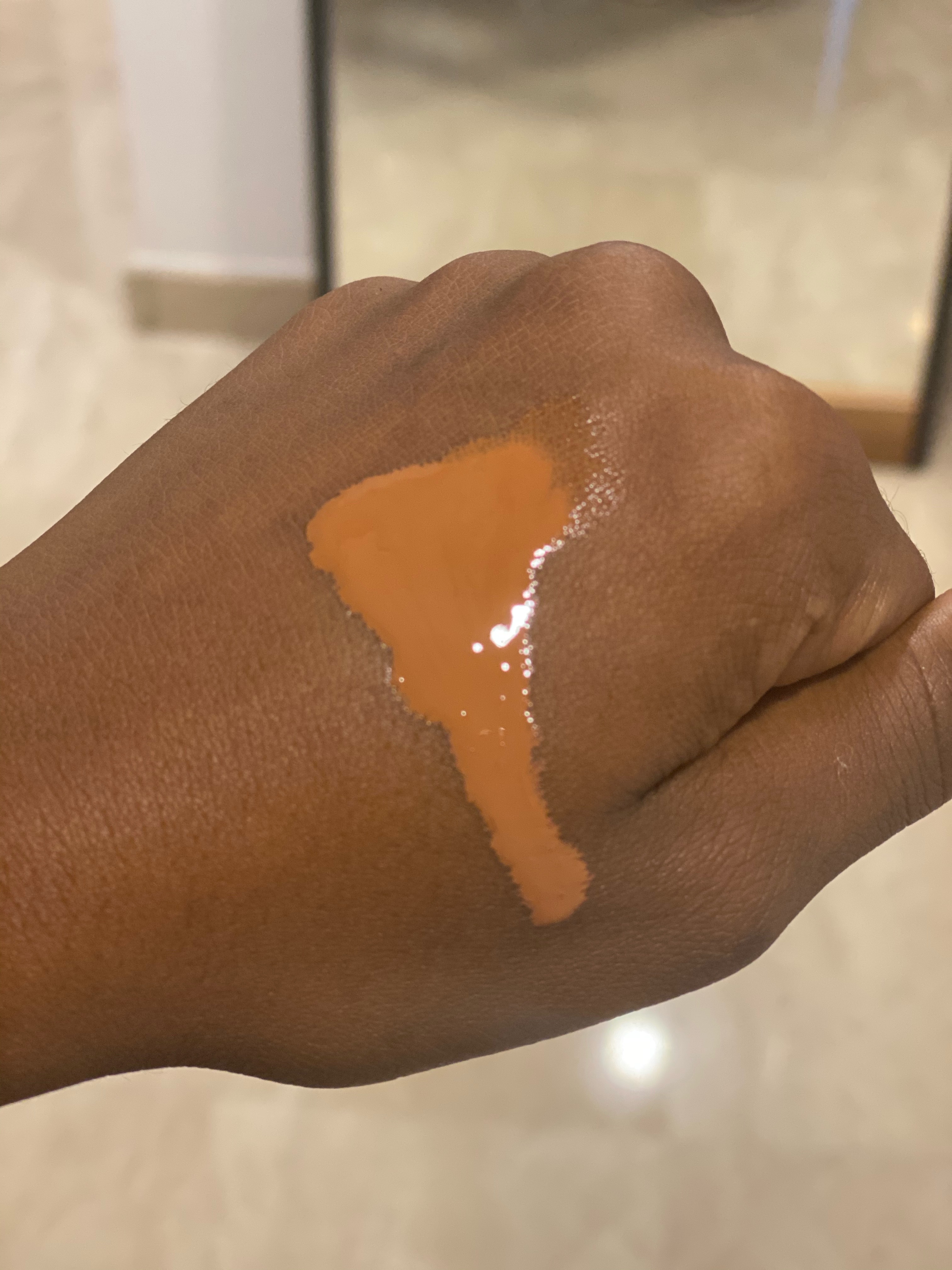 Texturewise, I love this foundation. It has a very natural finish and made my pores nonexistent. Think about your natural skin, just more gorge. It literally does it all, guys.
I need to say tho, I don't seem to understand the concept of it being self-refreshing. Anyone who knows or sees the effect should please enlighten me.
After having a not-too-difficult task trying to find the best way to wear the foundation, I have come to the conclusion that it takes conscious effort not to mess things up. No jokes, a little extra pump is capable of taking you from natural to 'Makeupey'.
Pros Of Shiseido Syncro Skin Self-refreshing Foundation
Buildable coverage
Natural finish
Sun Protection Factor (SPF)
Cons Of Shiseido Syncro Skin Self-refreshing Foundation
Honestly, I don't have any negative thing to say about this foundation. Only that you should be mindful of the amount you layer on.
My Take on The Shiseido Syncro Skin Self-refreshing Foundation
Overall, A foundation that has skincare benefit, has good coverage, has SPF, and sits in pretty the whole day. It definitely is a YES from me. My makeup game just got to a whole new level. I dote on how the foundation sinks easily and covers a lot of marks, but I would rather it screamed less of 'makeup'.
If you're a medium to full coverage lady, this foundation should work for you. If you have oily skin, pairing the foundation with your favourite primer should do the trick and allow your makeup stay all day. I wouldn't promise you a 'self-refreshing' foundation in the Shiseido Syncro, but you can be sure of a nice skin-finish. Still amazing, if you ask me.