This is coming quite late but better late than never right? I've been on to quite a number of things, and also putting my out of control makeup addiction to some good use (other than using it to make myself crazily gorgeous! ) And today is going to be all about Makeup Forever Reboot Foundation.
On one of my many trips to the mall, during a period I was going through a slight revolutionary phase trying out slightly pricey and ultra-buildable coverage foundations, in sync with my "naturally pretty foundation look" phase.
I zeroed in on the Makeup Forever Reboot Foundation and you know you can trust me on being your guide. Actually, I first heard about this foundation from one of my favourite YouTubers / beauty influencers, Aysha Harun so when I saw it at the store it wasn't too difficult to make a decision.
MakeUp Forever Reboot- Product Description
Makeup Forever's Reboot is an advanced, HD, lightweight, ultra-natural liquid foundation that is said to give a refreshed and flawless complexion. It combats the main signs of fatigue: dryness, dullness and visible pores. It is brilliant for providing buildable coverage along with nurturing and reviving skincare for the best result. It is said to give a light to medium coverage with an ultra-natural, fresh satin finish that can be layered for more coverage.
Just like the Neutrogena skin-clearing foundation, the Makeup Forever reboot foundation is one of the foundations that not only act as a 'foundation' but also provides skincare benefits while at it. I Stan such foundations.
MakeUp Forever Reboot Shades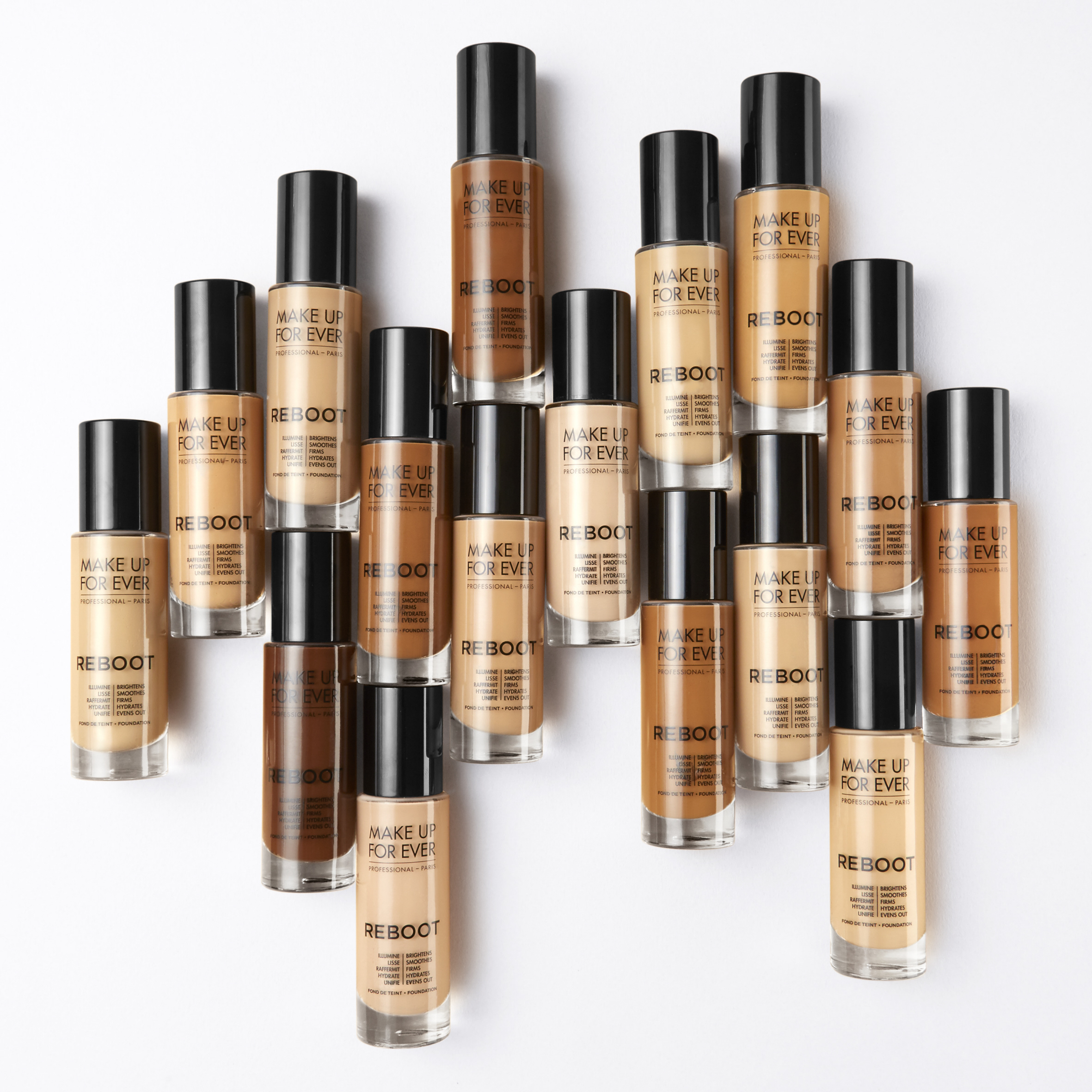 Reboot foundation comes in 24 shade. There are shades for yellow/golden/olive/warm undertones and red/pink/cool undertones.
The shades range from very light shades to light shades, medium-light shades, medium shades, medium tan shades, tan shades, dark shades, and deep shades.
I Put Makeup Forever Reboot Foundation To Test And Here's My Review
The Makeup Forever Reboot Foundation provides sheer, I mean light to medium coverage, which of course is dependent on how much you layer on. I'm big on dewy or luminous foundations because I love a skin-like, glowy finish, which is a plus for this foundation. The shade match is impressive and it is easy to blend.
I also love foundations that have light coverage and can be buildable for when I want a medium or full coverage and this foundation delivers that.
The foundation is really easy to blend and gives a fine, satin-like finish. With one pump, the foundation evens out my skin tone but because of it's light coverage you can still see my acne scars peeking through. With the second layer, I get the exact coverage I want, a medium coverage.
That brings me to say, if you're not a fan of layering and you want a foundation that gives full coverage with one layer, you might want to pass on this.
Oh…lest I forget, the makeup forever reboot foundation has a smell and this might not be pleasant for everyone. I don't exactly like it, but I don't hate it either.
The foundation is really easy to blend and gives a fine, satin-like finish.
After about 8-9 hours wear test, I still love the finish. The foundation oxidizes, so it was a little darker than when I had it on Originally. I havẻ combination skin so obviously, the parts of my face that tend to get oily was a tad bit greasy. I didn't see any creasing in any part of my face. Overall I'm impressed by the performance of this foundation.
Makeup Forever Reboot Foundation Pros
1. Provides skincare benefits.
2. It blends easily
3. Buildable coverage
4. Lightweight
5. Long lasting
Makeup Forever Reboot Foundation Cons
1. Might have an unpleasant smell
2. Quite pricey, definitely not in drugstore foundation category.
My Take On The Makeup Forever Reboot Foundation
The Makeup Forever Reboot foundation gives a good coverage, but this is dependent on the user. It also creates more room for skin compatibility; different skin types know where they fall and I like that. I recommend it for those who are particular about the weight of their foundation, have normal, dry or combination skin. I can't particularly say for oily skin. However, if you care so much about a FULL coverage foundation, then this is a no-no for you.
Alright, guys, have you used this foundation before, what did you think of it?