If you're anything like me, you've spent quite a lot of time surfing YouTube Makeup tutorials and you've probably found that drugstore makeup and routines are quite popular lately.
I know some of you have probably been made to believe that looking like a million bucks require spending a million bucks. However, this might have been true once but I can tell you it isn't anymore. You don't a single one out of the most expensive beauty products in the world to have flawless makeup. You could walk into the nearest drugstore and get something to make you look like royalty for the price of your average lunch.
There are now a whole lot of drugstore makeup whose formulas have overtime been perfected and have been made to be very affordable for the average makeup lover. Today, based on personal use and reviews from trusted people, I will be sharing with you Top 10 drugstore foundations you shouldn't sleep on.
1.
L'Oreal True Match Foundation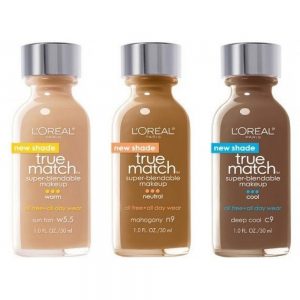 This drugstore foundation can be referred to as the unicorn of the drugstore aisle. This amazing foundation is available for just 9 dollars on amazon and works for all skin types – oily or dry. It's finish, when applied properly, it gives an airbrushed look without the cakiness that we all fear. It's also a lightweight formula so you can be sure you look like magic without feeling like you're carrying all the burdens of looking like said magic.
Unlike other full-coverage foundations, it doesn't feel like you're wearing anything on your face which makes it number one on this list of top 10 drugstore foundations. Meanwhile, guys, if you still deal with makeup getting cakey and all that stuff we don't like, here's why your foundation gets cakey and how to fix cakey makeup.
2.
Milani Conceal + Perfect 2-in-1 Foundation + Concealer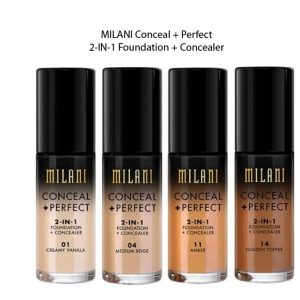 An absolute multitasker this one is! If you didn't know how to cover dark circles undereye bags with makeup, this foundation would make it easy for you. Some of its amazing job is fighting those stubborn eye bags that just won't leave, covering redness and other unwanted imperfections amongst others. Did I mention it's waterproof? Why else wouldn't it be among the top 10 drugstore foundations? It's available in 45 shades and provides medium to full coverage.
3.
e.l.f. Flawless Finish Foundation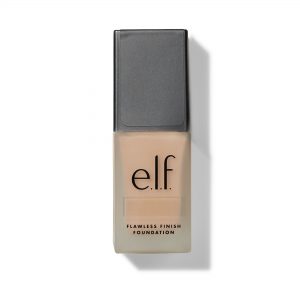 This $6 foundation does justice to the name 'flawless finish foundation'. It is oil-free, lightweight and glides on smoothly on the skin to give a semi-matte finish. It's available in 40 shades! Although it is best applied with a damp sponge, it also works well with brushes. All of this and more puts it at number 3 on our top 10 drugstore foundation.
4.
Neutrogena SkinClearing Makeup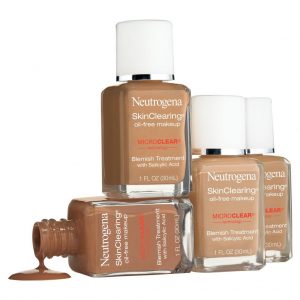 Most times, wearing a foundation on acne-prone skin is equivalent to asking your crush out. It's a risk that may or may not leave you happy after. You might want to use the foundation to cover up blemishes and spots but you definitely do not want to clog your pores or else, more acne. Sigh! I know.
This Foundation, with the help of dermatologists, is made such that it not only conceals pimples but also treats them. Amazing right? You get to look good and are also sure that you don't look worse when it's over. This is definitely the best drugstore foundation for acne.
5.
NYX Can't Stop Won't Stop Foundation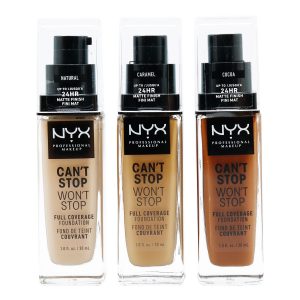 This foundation was produced in collaboration with YouTuber Alissa Ashely, one of my favorite beauty influencers and a friend to Jackie Aina. There's so many reasons this one made our list of top 10 drugstore foundations. It is lightweight, full coverage, has a matte finish, it is waterproof and very pigmented. The NYX can't stop won't stop foundation comes in 45 shades and it costs $15
6. Maybelline New York SuperStay 24HR Full Coverage Foundation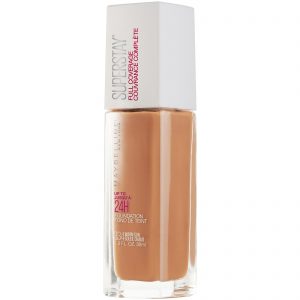 You'd think that bring full coverage and lasting 24hours would lead to consequences that you're willing to bear. Well, shocker, this beauty is oil-free. It is dermatologist tested and is certain to not clog pores. It's one of the best foundations for oily skin, it is full coverage, lides on smoothly and just like it claims, it can last 24 hours without looking all messy at the end of the day.
I did an in-depth review and wear test of Maybelline SuperStay 24HR Full Coverage Foundation, you should check it out as well.
7.
NYX Professional Makeup Total Control Drops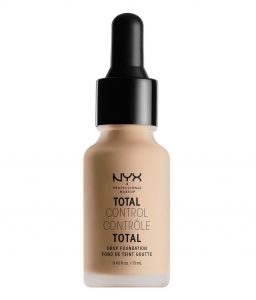 This NYX Total control drop foundation is one I've been using frequently these days. I like that it has a skincare product packaging like a lot of skincare products by The Ordinary that I own and use in my skincare routine.
8.
Maybelline Fit me Dewy and Smooth / Maybelline Fit me Matte Poreless
This foundation is part of my history as a makeup artist, I remember it being the first foundation from an international brand that I tried and loved without any sense of doubt. It is a light to medium coverage foundation that gives a very natural dewy finish.
Maybelline Fit Me foundation comes in another formula as well, the Maybelline Fitme Matte + Poreless, which I've tried as well. It's also great formula-wise and choosing which to buy between the Maybelline Fitme Dewy and Smooth or Matte Poreless solely depends on your preference for the type of finishing you want from a foundation. If you love a matte look, you should go for this one Matte + Poreless, otherwise, Go for Dewy and Smooth.
The fact that this drugstore foundation is easy to use and that even oily skin types can pull it off with a latter of setting powder is what makes it a favorite of many and what puts it on our list of top 10 drugstore foundation.
9.
Revlon Colorstay For Combination/Oily Skin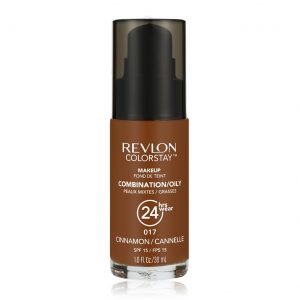 This foundation is available in 43 shades and leaves you with impeccable makeup all day long. With a beautiful matte finish and buildable to full coverage, it also contains hyaluronic acid which keeps the skin hydrated. All of this and the fact that it is oil-free and SPF 15 puts it on my list of top 10 drugstore foundations.
Watch me put this Revlon Colorstay For Combo/Oily Skin foundation to use in this video
10.
L.A. Girl Pro Coverage Foundation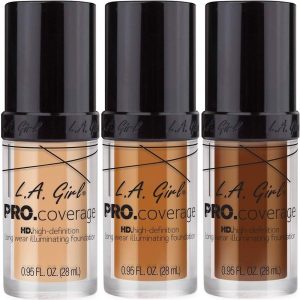 Last but definitely not the least is L.A. Girl Pro Coverage Foundation. We're all very familiar with the amazing L A gIRL pro concealers that is one of the absolute best foundation (in fact, it can beat a lot of high-end concealers in performance).
One thing that made this foundation stand out for me is their dark shades especially L.A. Girl Pro Coverage Foundation "Dark chocolate" shade. It is so dark and rich and fit for the darkest skin tone. The foundation comes in a pump bottle and is available in a 16 shade range. Why else does it deserve to make the list of top 10 drugstore foundations!
All right my loves, those are my list of top 10 drugstore foundations. Have you tried any of them? Do you have a favorite that isn't listed? Do share in the comments.