Ever look at everyone else and just admire how perfectly their foundation stays on their skin?
You, on the other hand, can't have foundation on for 30 minutes without it all looking like a glazed doughnut. That can be such a bother, can't it? Believe it or not, this can get better if you find a foundation that works best for your oily skin. Trust me, there's the right foundation for all skin types. This is as a result of the formula of that foundation.
As someone who has oily skin, not neglecting how very important great skin work is, getting the right foundation is also important to me. I'm always on the lookout for foundations which control excess oil and doesn't fall apart before the end of the day, haha.
The usual drill is this; when you have oily skin you should tend towards matte foundations, these formulae minimise the effect of the excess oil on the foundation and if you have hyperpigmentations and irregular skin tone, asides colour-correcting, you should go for full coverage foundations.
I've done the research for you and, in this article, I'll be sharing not only drugstore foundations for oily skin but also some high-end foundations for oily skin.
1. Make Up For Ever Matte Velvet + Mattifying Foundation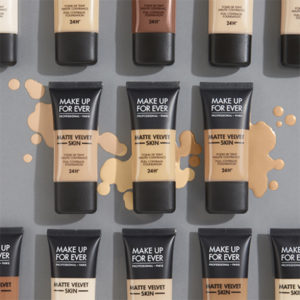 It would be a makeup crime to not include this container of magic in our list of top 10 foundations for oily skin. Not only does it tone down the shine, but this formula is designed to stick around all day till you decide you don't want it anymore. Talk about loyalty. lol. It is full coverage keeps the oil under control and does not have throughout the day.
2. Estee Lauder Double Wear Stay-In-Place Makeup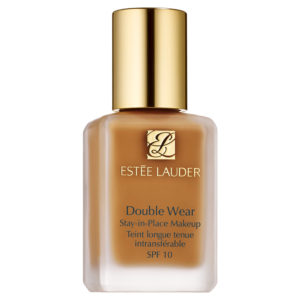 When you talk about through thick and thin, you talk about this bottle of beauty. Whatever the weather your makeup will stay together if this was your base. Its ability to withstand heat, sweat and humidity puts it on the list of top 10 foundations for oily skin.
4. Maybelline Superstay Foundation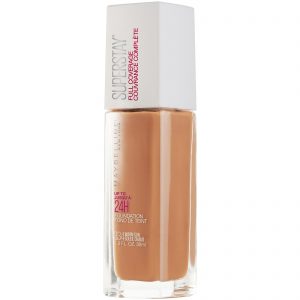 Remember we established the fact that drugstore makeup might just be taking over? At barely 15 dollars, this tube contains a lightweight formula that absorbs oil and makes pores look nonexistent. This is without a doubt one of the best foundations for oily skin, it is full coverage, glides on smoothly and just like it claims, it can last 24 hours without looking all messy at the end of the day.
I did an in-depth review and wear test of Maybelline SuperStay 24HR Full Coverage Foundation, you should check it out as well.
4. Lancome Teint Idole Ultra 24H Foundation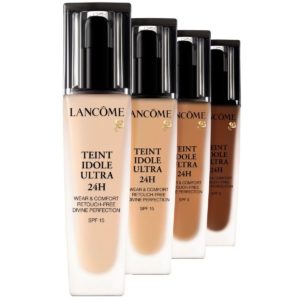 Last, but definitely far from least, is something you don't find easy. A cushion compact for oily skin. Its formula also contains SPF 50 so it's 'bye-bye sunburn' while looking like fire! Yes, it's amazing but let it be known that it might not have the perfect matte, however, we already said that shine-free doesn't have to mean flat.
5. Covergirl Outlast All-Day Stay Fabulous Foundation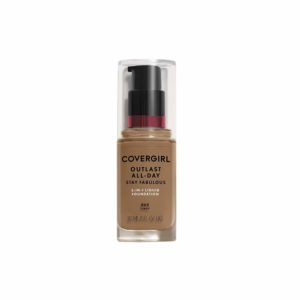 3-in-1 primer-concealer-foundation, silky, medium coverage, feels light and looks light too, never looks cakey…I could go on about all the things to love about this tube of wonder but here's an interesting part. part. It barely costs 10 dollars. I know, right?!
Highly recommended if you looking for more value for your money. It's a liquid formula that comes in 13 shades. Do you still dispute its position on our list of top 10 foundations for oily skin or have you proceeded to order yet?
6. Giorgio Armani Beauty Power Fabric Longwear High Cover Foundation SPF 25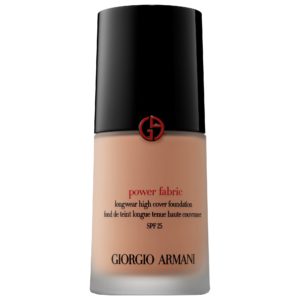 Remember winter/harmattan typically goes on till March? That established, in a previous post, I shared reasons why you must be wearing sunscreen and even gave a list of ones dermatologically recommended- yeah that just came up because one of the reasons why this foundation is so good is because it contains SPF, velvety glide to it and doesn't settle into wrinkles.
7. Dior Backstage Face & Body Foundation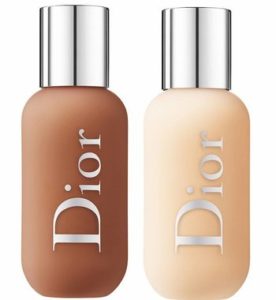 Remember the royal wedding, yes, the one between Meghan Markle and Prince Harry; this exact foundation was used by Daniel Martin on Meghan Markle. The foundation is lightweight, water-based and leaves a matte powder-like finish which obviously reduces shine/ oil.
8. Marc Jacobs Beauty Re(Marc)able Full Coverage Foundation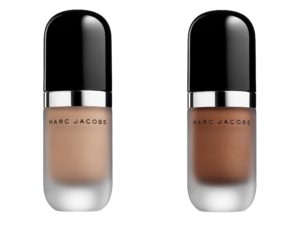 This formula is so full coverage that, according to reviews, you only need a few drops and your entire face is covered. It's also formulated to withstand budging from the push of excess oil.
9. L'oreal Paris Infallible Matte Foundation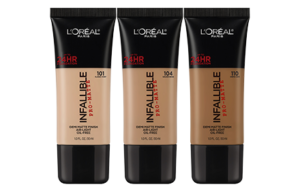 L'oreal makeup is one of the affordable beauty brands that you shouldn't overlook. Yes, we're trying to avoid too much shine but shine-free doesn't always have to be flat. If you looking for a little tweak while concealing major flaws, this is your best bet.
10. Laura Mercier Flawless Fusion Ultra-Longwear Foundation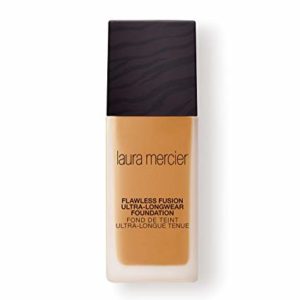 Laura Mercier describes this foundation as lightweight, they mean it. It's got a very thin, liquidy texture that spreads like silk on the skin. In addition to that, it is pigmented, full coverage and has a matte finish which keeps oils on your face at bay all day long.
And there we have it. There's a variety for whatever suits you whether you're a liquid, powder or compact person, your oily skin doesn't have to look like a slip and slide a few hours after makeup any more thanks to the top 10 foundations for oily skin.