Have you ever wondered what the secret behind the Koreans flawless silky skin is? I'm sure you must have thought "what exactly do they use, or is it just the genetics"?
Asians have held the secret to natural beauty for hundreds of years now while making use of nature's gifts coupled with timeless beauty routines to attain that perfectly glowing skin.
A top trend in the beauty industry probably after the 'natural skincare' trend is the Korean beauty trend also known as K-beauty, and you might have seen some posts while surfing the internet looking for some of the best beauty products that give results, or you just heard about the K-beauty world and you're wondering what the buzz is about? Well, all you have to do is look southwards, as in South Korea, because they have some of the best beauty products that will leave your skin feeling and looking nothing but flawless.
The buzz around the K-beauty world is rightly justified because their products are wonderful, cruelty-free, natural, and best of all very effective. A combination of the right products will leave your skin looking like glass, and feeling silky smooth.
So, if you're considering trying out some of their beauty products, then this list is for you. I've put together some of the best K-beauty products that top the list, and are sure to take your breath away. Some I have used, others from recommendations from trusted sources.
Top 5 Recommended Korean Beauty Products
1. Nature Republic Aloe Vera Gel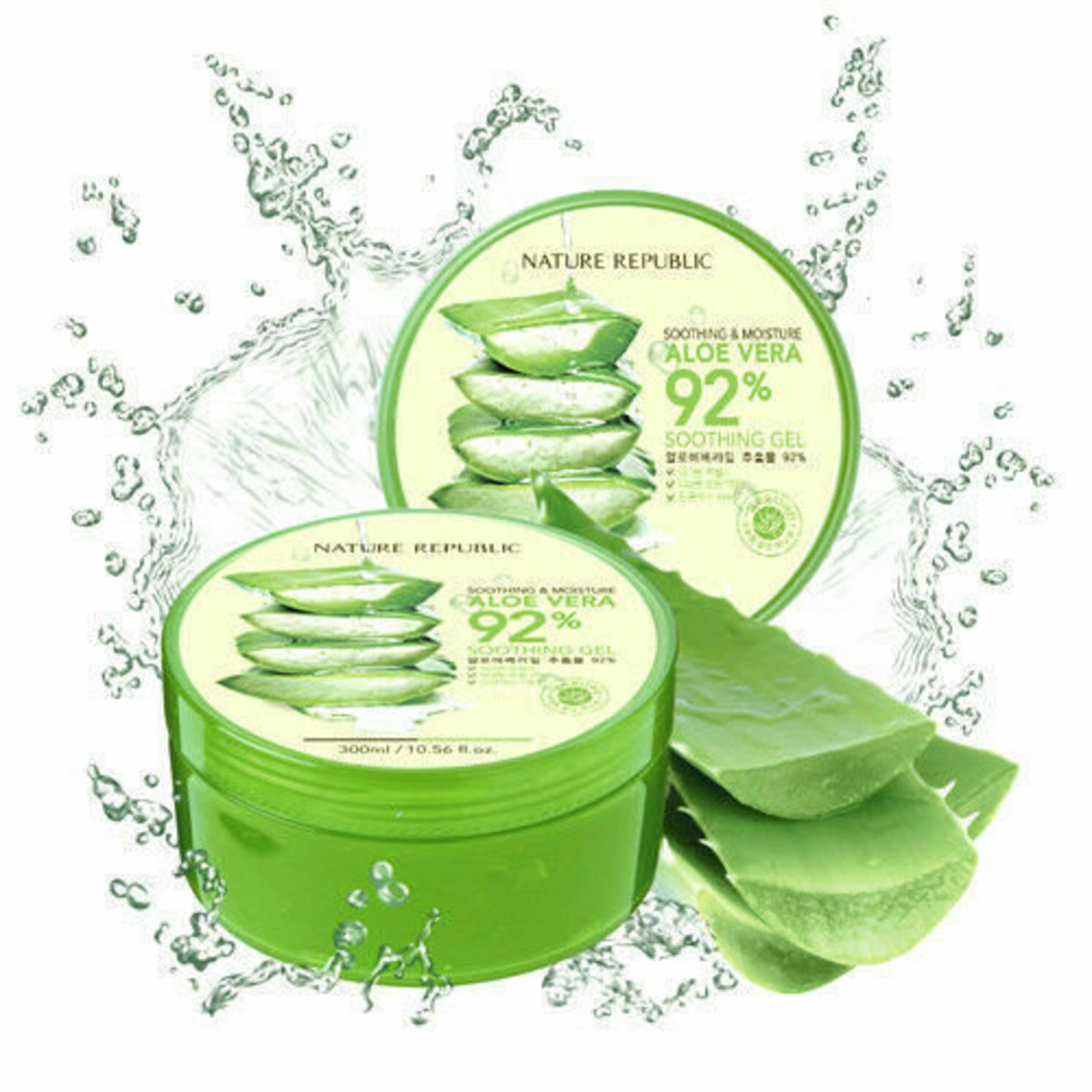 Nature Republic is one of the most common brands when it comes to K-beauty products. This aloe vera gel has a soothing effect while it moisturizes your skin at the same time. It contains 92% aloe vera extracts and is also approved and certified by the Californian CCDF, and is organic.
The gel is mildly scented if that affects you however, it hydrates the skin, and is suitable for all skin types, so you don't need to worry if it is compatible with your skin type.
2. Mamonde Petal Spa Cleansing Balm
This petal cleanser is a one-stop-shop beauty must-have for removing makeup while cleansing your skin, without having to strip your skin of its moisture. I am an avid advocate of "don't use wipes to remove makeup" and would recommend using a cleansing oil or cleansing balm, like this one.
It has a silky texture and an oil-based formula which is very lightweight. It starts out as a silky oil that then foams, emulsifying and removing dirt and particles, cleanses the skin without being harsh, and also has a very nice natural fragrance. It works just great with sensitive skin, and most other skin types.
3. Mediheal N.M.F Intensive Hydrating Sheet Mask
This hydrating sheet mask is a common pick in Seoul, and the Mediheal N.M.F makes some of the best hydrating masks there is. It is available in most stores that stock sheet masks, and contains ammonia acids, hyaluronic acid-soaked sheets that moisturizes and transforms dry and flaky skin to soft and hydrated skin. It also contains witch hazel which is a very good toner and also helps to exfoliate the skin.
4. Sulwahsoo Concentrated Ginseng Cream and Perfecting Cushion
Consider this a bonus with two different products from one brand. Sulwahsoo is a very popular brand and its products can also be found in the United States. The concentrated ginseng cream is considered to be one of the best face creams and contains root extracts, six-year-old ginseng berries, and is also formulated with other herbs. It has anti-aging properties, and aids in stem cell regeneration, and this is the cream to consider for smooth and flawless skin.
The Perfecting Cushion falls under their makeup product line and is definitely worth the try. It contains SPF 50, nourishing honey, brightening niacinamide, is dewy, and gives full coverage while also being lightweight.
The Sulwahsoo products are a bit on the high side in terms of pricing, but they are certainly worth every penny spent.
5. Klaris Midnight Blue Calming Cream
Klaris is also another popular household brand with a variety of products that help to soothe the skin and moisturize as well. The Midnight Blue Calming Cream soothes irritated skin, sun exposure, hydrates, and reduces redness.
It contains chamomile oil responsible for the cool blue hue, and Centella which helps to ease irritation and redness while hydrating the skin. A thin layer is all you need to boost moisture overnight which is absorbed straight into the skin. They also have the Rich Moist Soothing Cream which performs similar functions and reduces the appearance of pores.
These are some of the best hand-picked Korean beauty products out there to help you achieve that glassy flawless looking skin you see them having. Some of the products are a bit pricey, but most are very affordable, and all are certainly worth the spend.
Want to read more on skin care? I have a full category on the blog for skincare. Do check it out.
Love,
Mimie Jay