One of the most important things to consider when buying hair is choosing the type of hair to buy, synthetic or a human hair wig. They both have numerous advantages as well as disadvantages. After reading this article, I am optimistic that you'll experience no difficulty in choosing that wig that suits you perfectly.
SYNTHETIC HAIR WIGS
Often times, people think that Synthetic wigs don't look natural but that is a wrong idea as it all depends on your maintenance ability and as a matter of fact, it could be very difficult to differentiate between a synthetic or a human hair unless it is thoroughly cross-checked and compared directly with a human hair beside it.
One major advantage of synthetic hair is that it stays in shape and give you your desired style all day long. Wigs made from synthetic usually require little or no styling. However, synthetic wigs are known not to be heat-friendly(although some are). Also, the synthetic hair is cheaper and usually lasts between a period of 4-6 months.
HUMAN HAIR WIGS
Without a doubt, the human wig exhibits the most natural appearance and quality, they are extremely versatile and depict the most real attributes.
Human hairs usually don't come ready to wear or styled. This rare advantage allows you to create your hair into any style of your choice. The higher the quality of the human hair, the more durable it is and it lasts longer than the synthetic hair. Human hairs must always be hydrated as a top form of maintenance. Specific products are also advised so as to increase the durability and beauty of the hair.
One major difference between synthetic and human hair wigs is in the fibre. A synthetic wig can be better at holding it's style even after washing. Human hair wigs are made out of real human hair so they look and feel real, but they also have to be restyled after washing just like real hair.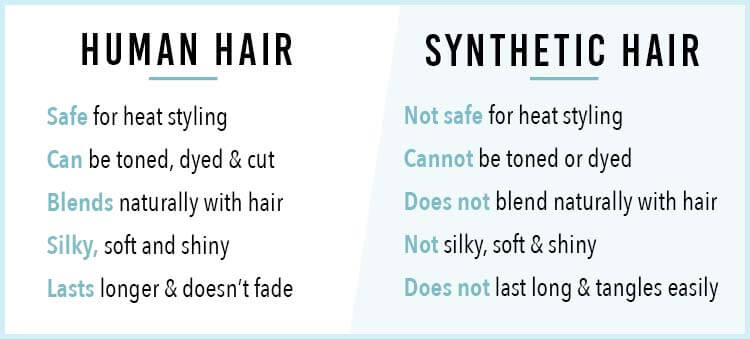 With these few points on mine, lol, I hope I've been able to make it clear to you, the difference between human hair and synthetic. Don't forget to share with friends.