Hey people, how are you doing today? I haven't asked that in a while, I know! I hope you're doing well.
I've kind of been on a spending spree with makeup recently and my most recent purchase is a box of products from Colourpop cosmetics.
I kinda got bored of liquid foundations recently and wanted to switch to stick foundation so i couldn't be more excited about including Colorpop No Filter Stix foundation among my order from their website. In posts to come, I would review other products I got from Colorpop but today is going to be about the Colorpop No Filter Stix foundation. Without any further delay, I'm just going to head right into it.
Product Description
Colorpop describes this foundation as a swipe, blend, and go with no filter stick. It claims to conceal, correct and perfects, for a flawless complexion in seconds. It's medium to buildable coverage instantly blurs pores, covers blemishes and blends effortlessly for a natural skin-like finish. Never cake or drying, this stick glides on for the easiest application. Perfectly portable, take it on-the-go for mess-free touch-ups anytime, anywhere'
How I Found My Foundation Shade
This was like the most challenging for me. Mere looking at the pictures of the foundation on the website, it is difficult to choose what shade would be perfect for you. lol, in my case, looking at the swatches on the website, I would have gone for either Dark 161 or Dark 165 but I knew it most likely was wrong because I went on youtube to watch review and swatches, people that wore those shade were lighter than in complexion than I am. At this point, I guessed Dark 175 was most likely my shade.
There's also a very great guide on the website which helped me come to a conclusion. This guide basically helps choose what shade should be best for you with referring to your shade in other brands' foundation.
I selected Maybelline Fit ME Foundation 338 and was matched with Dark 175. I was glad I chose this shade, I don't think any foundation has matched me as perfectly as this one did.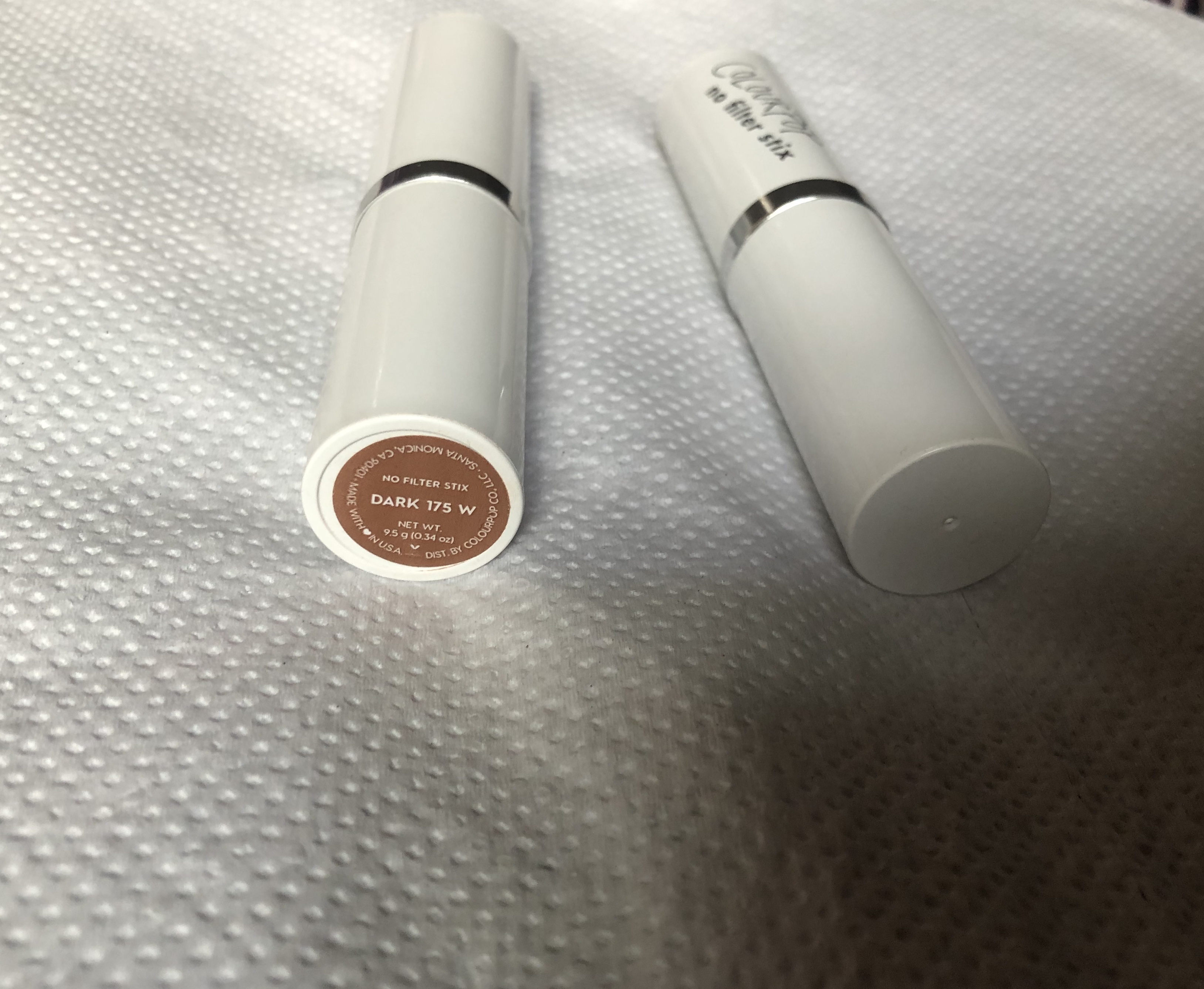 Other foundations available on their guide for comparison are:
Anastasia Beverly Hills Stick Foundation

Hourglass Vanish Seamless Finish Foundation Stick

Maybelline Super Stay Full Coverage Foundation Stick

Tarte Clay Stick Foundation

Bobbi Brown Skin Foundation Stick

Lancome Teint Idole Ultra Longwear Foundation Stick

Makeup Forever Ultra HD Invisible Cover Stick Foundation
I didn't own any of these stick foundations above so I decided to use the guide in the No Filter Liquid Foundation category, I selected Maybelline Fit ME Foundation 338 and was matched with Dark 175. I decided to go with this shade in the stick foundation as well and I'm glad I chose this shade, I don't think any foundation has matched me as perfectly as this one did. Most times I tend to mix two foundations at least before I get my perfect shade.
How Is The Colorpop No Filter Stix Foundation Packaged?
I actually really love the packaging, it has an all-white body with silver detailing. It twists up and down to bring out the product and take it back inside. It's quite sturdy and true to one of its claims, it is very easy to carry around.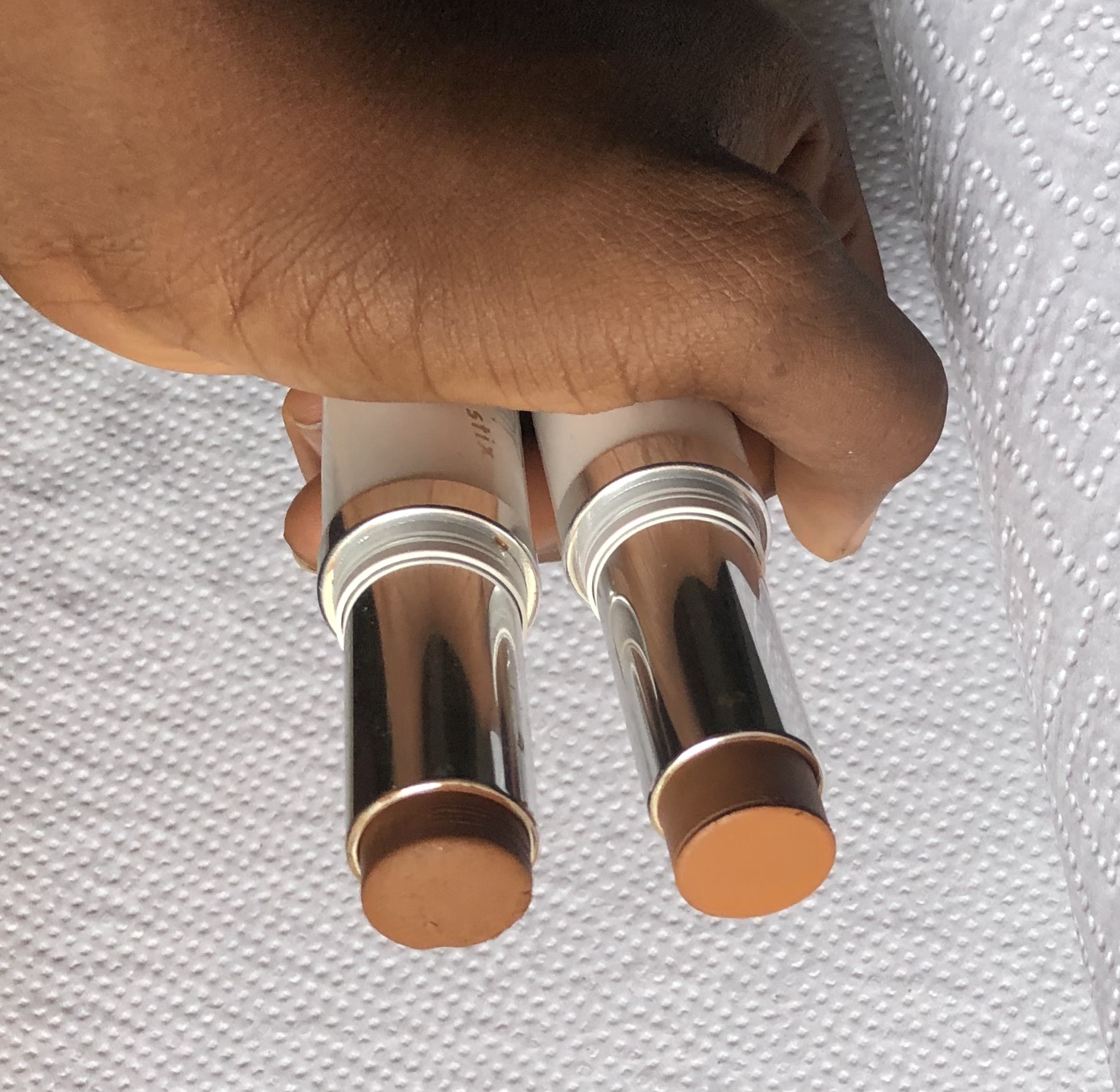 How To Apply Colorpop No Filter Stix foundation
The Colorpop No Filter Stix foundation has a very creamy formula, the stick doesn't feel too soft which is a good thing 'cos it'll help reduce the incidence of breaking easily.
I basically just swipe it on my forehead, cheeks and jaw, then blend it out either with a beauty sponge or a dense foundation brush. This beauty sponge is currently my favourite tool to use at the moment though. This foundation blends very well like effortlessly, it also doesn't dry down totally so you have enough time to blend well.
Speaking of coverage, just like it claimed, it a medium but buildable to full coverage foundation. With the first layer, you get a decent amount of coverage but if you're a FULL COVERAGE lover, you may have to add more layers to get the coverage you want.
The Finishing
The finish is neither dewy nor matte, it gives a very natural finish. In my case, it was just like my skin, just more flawless, especially considering the fact that it was exactly my skin colour. I think this foundation would work very well whether you have a dry, oily or combination skin.
How Long Did The No Filter Foundation Stix Last?
Truth be told, this foundation really held up well. I wore it for almost 9 hours and it till looked really good around that time. I would say though that the Maybelline Fit me 24hr Superstay lasted longer than this one did.
I was actually very impressed with how well the No Filter Foundation Stix wore throughout the day! I normally expect my foundation to last at least 8 hours (with setting powder and setting spray), and this foundation totally met that expectation.
I normally put my makeup on around 6 am and I finish work at 4 pm. By the time I get home after work, I do notice a bit of separation around the crevices of my nose and mouth, but that's completely normal for me. And even with that, it still looks pretty damn good!
How Much Is It?
For a $10 foundation, this is really great. It's worth every penny.
Final Verdict
I'll give this foundation a 10/10 simply because I absolutely have nothing against it till date. If i do notice something later on, i'll be sure to let you guys know.