To not know 'Zaron' is to not know what's going on in the Nigerian beauty industry. Known for top notch products and services, Zaron has become a household name. Before I dive into listing most if not all the products from this amzing brand, here are few points to know about Zaron Cosmetics
Zaron Cosmetics is a brand dedicated to the enhancement of the wellbeing and quality of lives of all people through the development, marketing, distribution and sale of quality lifestyle products.
It is a leading global cosmetics brand that provides an assortment of cosmetic products carefully formulated to suit diverse women of color (WOC) living under different environmental conditions.
Conceived in Leeds, the United Kingdom in 2010, Zaron began trading in September of 2011 under the names of Zaron International Limited, Zaron Cosmetics Limited and Zaron Hair Limited.
Zaron products are manufactured according to international standards in an environmentally sustainable manner to deliver consistency, quality, and value to consumers in ways that accentuate physical beauty, engender inner satisfaction and self-esteem.
Zaron products are solely distributed from its head office situated in Ikoyi, Lagos, and sold via over 1,000 distributors through franchises established in over 30 different locations both in Nigeria and across Africa.
I have used and I'm still using a lot of Zaron cosmetics products and I personally love the. I shared a full review of some of Zaron cosmetics products in previous article.
Time to dive into Zaron Cosmetics products, they are divided into 4 categories namely Face, Eyes, Lips and Accessories
Zaron Cosmetics Face Makeup Products
Let's talk about the Zaron "face" products. These are the products that are used on the face and they are powder (mattifying compact and loose), foundation, concealer, hyper–blush, face primer, face definer, perfect finish, finishing powder and face palette.
1. Zaron Cosmetics Mattifying Compact Powder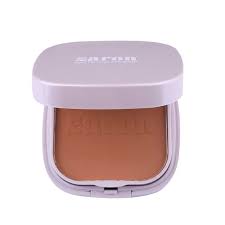 Zaron mattifying compact powder is an oil-free, lightweight powder. It contains SPF30 (sun protecting factor) which helps to protect the skin from the harmful ray of sun. It blots out oily shine and gives it a matte finishing look. It is available in eleven (11) shades. ZZ10 –ZZ50, ZZ60 and ZZ65 and it is sold for #3500.
2. Zaron Cosmetics Loose Powder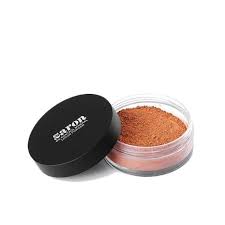 Zaron Cosmetics Loose powder is available in 5 shades, LZ05- LZ35, the Zaron loose powder is an oil-free, lightweight powder that contains SPF30. It sets the makeup, softens the skin colors and makes the skin soft. It also gives the face full sheer coverage and makes the skin look natural. It is sold for #2500.
3. Zaron Cosmetics Maxiblend Compact Powder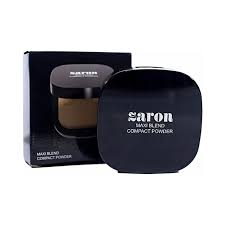 The Maxi blend compact powder offers full coverage as it is a foundation/powder formula. It is compact, lightweight, noncomedogenic and contains SPF. Also, it is long-lasting and perfect for all-day wear. It comes in 7 shades XZ05 to XZ35 so you can be sure to find a shade that suits you. It is sold for 4500
4. Zaron Cosmetics Healthy Glow Foundation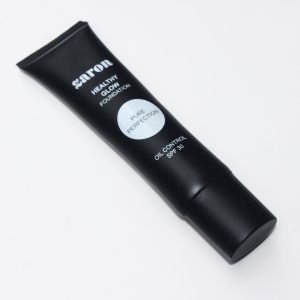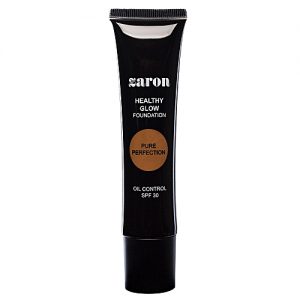 The healthy glow foundation comes in two kinds, the matte and non-matte formula. The packaging is really nice and it's not difficult to get products out of it. I've used both of them and they live up to their names. The foundations are medium coverage but very buildable to give full coverage.
Related:
5. Zaron Cosmetics Concealer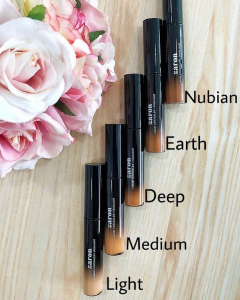 The Zaron concealer is a cream-based concealer that gives maximum coverage and conceals all spots and blemishes. It can also be used as a perfect concealer for the eyebrow. It comes in a very attractive package with a convenient applicator. It is available in five (5) shades, Nubian, Earth, Deep, Medium and Light
6. Zaron Cosmetics Hyper Blush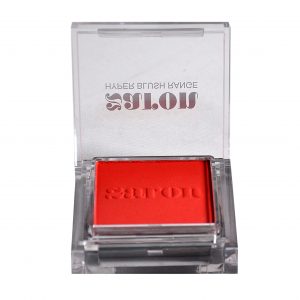 The Zaron hyper – blush is a highly pigmented and intense blush color that adds natural color to the face. It brightens the face in the most desirable way. It is matte, oil-free, longlasting and provides a radiant blush of color to accentuate the face naturally. It is available in four (4) shades mudfest, electric crush, rose charm and siren.
It is sold for #2200
7. Zaron Cosmetics Face primer/ Zaron Cosmetics Mattifying Primer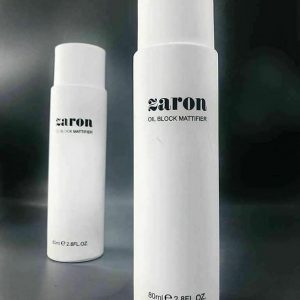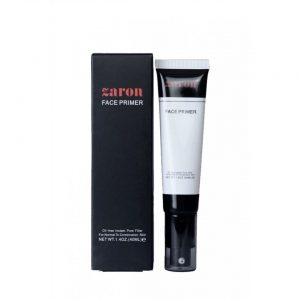 The Zaron face primer is an oil-free, clear, gel-like, odorless makeup base. It refines the skin, makes it flawless and gives the face a silky feel. It allows makeup to glide on the face really well, helps it last longer and prevents foundation from looking cakey. It also helps to even out skin tone and it is used by all skin shades. The Mattifying primer is another primer from this brand, less moisturising than the first one but it works more effectively to control oil.
8. Zaron Cosmetics Face Definer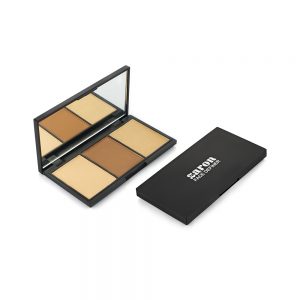 The Zaron face definer is a special combination of highlight, contour and bronzing powder. It is made of 3 palette which contains a matte highlight, matte contour and a shimmery bronzer. All the three parts are highly pigmented and it is available in four (4) shades, PZ05 – PZ20. It is sold for #3500
9. Zaron Cosmetics Perfect Finish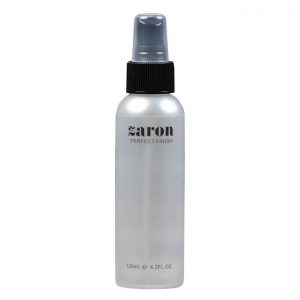 The Zaron perfect finish is an instant moisturizing and relaxing mist that freshens and treats the skin with its ultra fine micro droplets. It is a light weight spray, comfortable and sets all types of make up. It is designed to set the make up to perfection and aid longevity for much needed all day wear even under extreme weather conditions like heat. It is sold for #3500
10. Zaron Cosmetics Finishing Powder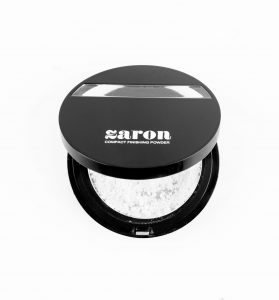 The Zaron compact finishing powder is a light weight, matte, silky and transluscent finishing powder. It is easy to apply, controls shine and suitable for all skin types. This 'one shade fits all' powder brightens the face, minimizes the appearance of large pores and fine lines giving the face a perfect finish. It is sold for #3500
11. Zaron Cosmetics Face Palette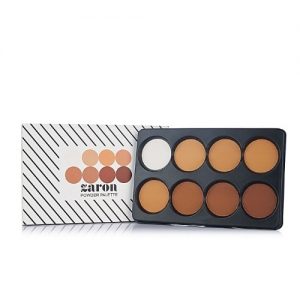 The Zaron face palette is made up of 8 mattifying compact powders. They have other pallets of 16 and 12. Each with different prices. The 16 in 1 palettes which is a combination of nine (9) shades of mattifying compact powder and seven(7) shades of perfect blend cream to powder. It contains SPF30. It is a very useful tool for make up artists and it gives a flawless look when used. It is sold for #12,900
Zaron Cosmetics Eye Makeup Products
Speaking of the Zaron eyes products, these are the products that are used on the eyes. They are:
1. Eyebrow pencil
2. Eyebrow definer
3. Eye primer
4. Eyeliner (eyeliner pencil, felt tip pen eyeliner, gel eyeliner, HD liquid liner and retractable gel eyeliner)
5. Eyeshadow (9 in 1 eyeshadow palette) Mascara (lengthening mascara and volumizing mascara)
6. Lash glue Lashes
Zaron Cosmetics Lips Makeup Products
The Zaron Lips products are the products that are used on the lips and they are: Lipsticks (matte lipstick, moisturizing lipstick, eclipse collection lip stain)
1. Lipgloss (MaXsheen lipgloss, luxurious lipgloss, ultra shine lipgloss)
2. Lip liner pencils
The Zaron Accessories are: Brushes ( professional brush set, mini brush set, powder brush set and angle brush) and Makeup bags
Zaron Accessories.
So if you are just hearing about Zaron Cosmetics (which I doubt), the reviews including my review of some zaron cosmetics makeup products are enough testimonies as to why you should join the family. I'm sure you'll also stay glued when you use any of the products.
It is safe to say that you'll definitely get value and much more for your money because Zaron For your quality make up products are of great quality and are very affordable.
You can buy any of the products directly from Zaron cosmetics website.
You can subscribe to my YouTube Channel for makeup videos and demonstrations of how I achieve a flawless makeup
I have a free gift for you as well, download my makeup tutorial booklet + videos FOR FREE.