It's a cold Sunday, I was just cuddling my bed when I realised I have this beauty product review to publish.
Disclaimer: This content is not sponsored and neither was it generated from personal experience.
Read along.
Before that, you can check out Ajali Handmade Naturals Review.
---
Feeling overwhelmed by all skin care choices out there? I was once there. Every year, there are a thousand and one beauty products in the market and making a pick could be really strenuous. I used to be in those shoes till fortune smiled on me in the guise of Skin Apothecary. Today, I will be talking about their Ayurvedic Black Soap known as Liquid Black Gold.
The Skin Apothecary Liquid Black Gold (Ayurvedic Black Soap)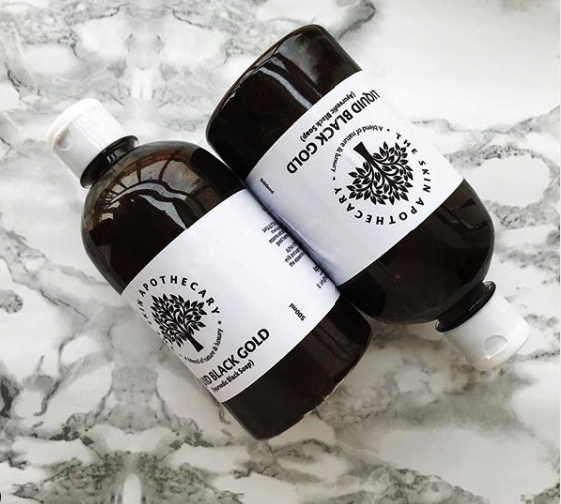 Skincare is way too important than a lot of people know and it is really disheartening that a lot of us neglect to use whats best for our skin. With that said, I've curated this review on The Skin Apothecary Liquid Black Soap that addresses all of our skin concerns, serves as an anti-ageing formula and gives a really healthy glow.
The Ayurvedic Black Soap is made with the finest of ingredients that help in giving your skin a perfect look and feel. This product tackles everything regarding blemishes and down to wrinkles, to spots and to dry skin. It can help diminish wrinkle appearance, reduce dark spots and hyperpigmentation, fade away redness, even out skin tone and conceal eye bags and dark circles. I literally have seen this product grow, which sort of heightens my love for it. Just like many great skin products out there, the Skin Gold has been through quite a handful of phases and here it is now, being a boss at skincare.
Allow me to delve into the details of this product:
Ingredients Of The Skin Apothecary Liquid Black Gold
The Black Soap contains Cocoa pod, ash, palm kernel oil, shea butter, cocoa butter, plantain skin ashes, AHAs and BHAs honey.
Shea butter is one of the most versatile beauty ingredients. The concentration of natural vitamins and fatty acids in shea butter makes it incredibly nourishing and moisturizing for skin. It is often used to remedy dry skin and to help protect the skin's natural oils. It also aids the skin's natural collagen production that protects and nourish the skin to prevent drying.
Alpha Hydroxy Acids (AHAs) are chemical compounds that exfoliate the skin. They are most of the time found in fruit extracts. They help in scaling off dead skin cells to reveal new, clean skin. By using this on a regular, there will be diminished wrinkle appearance, reduced dark spots and hyperpigmentation, evened-out skin tone, concealed eye bags and dark circles.
Consistency and Formula Of The Skin Apothecary Liquid Black Gold
It is a liquid soap that speaks richness and beauty. The little particles in it make it perfect for scrubbing and at the same time serves as soap. I totally dote on the fragrance! As opposed to the regular boring smell of every black soap, this is way different and just beautiful. It doesn't get stuck on the skin and stubborn to rinse off. It glides off easily and penetrates into the skin easily.
How To Use The Skin Apothecary Liquid Black Gold
When I got introduced to this product, I would rub it on my skin 10-25 minutes before taking a bath, then apply on my face for 5 minutes. I used to rinse my face first before applying the soap so as to allow it to sink in properly. I used to do that twice in a day; morning and night. I, however, had to reduce the usage to just once in a day when I discovered that too frequent use could make my skin drier. It is really pertinent to understand your skin so as to know the usage of this product. I have really sensitive skin, so I noticed leaving this product on my face for so long made it scaly and dry. If your face happens to be just like mine, then you do not have to leave it on your face for so long. Just use it when taking a shower. Oh, one more tip. Since the product contains AHAs and BHAs, you should not combine it with any product that has this same formula.
Price Of The Skin Apothecary Liquid Black Gold
The product is available in different sizes and price just to suit your pocket.
The 200ml bottle goes for N3000
The 250ml bottle goes for N4000
The 500ml bottle goes for N7500
Packaging Of The Skin Apothecary Liquid Black Gold
No jokes at all, the packaging just suits me perfectly and I'm certain you will feel the same way too. I am someone who tends to use things out of proportion if not controlled, so the transparent bottle in which the product comes is just what's best for me. It allows me to control my usage and helps me monitor it. It is really light, which makes mobility an easy-peasy one. Also, I used to have issues with moving about with skin products because of one thing- the cap. I suffered a whole lot of grease in my bag, spilt products and the likes. This bottle just came in like an answer to prayers. It has a flip case and a dispenser which is what everyone needs, especially if you are someone like me who goes about with her bottle.
Review Of The Skin Apothecary Liquid Black Gold
The black soap helps maintain skin tone and gives the perfect glow. Gold, just gold, liquid one. It increases hydration in the skin, prevents wrinkles formation and smoothens out roughness. I actually used to believe that dark underarms were not much of a big deal until this soap changed my mentality. My underarms look exactly like my skin. Trust me on this one, this black soap is great at getting rid of dark spots. This product targets ageing concerns as well with so much gusto, many thanks to the potent ingredients embedded in it.
As soon as I'm done with my 250ml bottle, I am so switching to the 500ml bottle. It definitely is worth it, I must say.
---
You can also check out other product reviews.