Disclaimer: This is not a sponsored post.
I got introduced to some products of Nuban Beauty and they've checked all my boxes. My fave is the Intensify Eye Shadow Palette which has sealed the deal for me. It wouldn't be fair to be enjoying this goody alone, so I thought to share some of my views concerning this.
The Review – Intensify Eye Shadow Palette
I came across this picture on Instagram where a makeup artist had done a face beat for a lady. To be honest, what caught my attention was the eye shadow effect on the muse.
Luckily for me, the palette used was mentioned and I began a search for the product. This palette just seemed to be all I was looking for, for a while now. The colours aren't loud and aren't dull, just perfect for an everyday kind of makeup. The shades are really cool, there are warm tones of browns and orange.
Perfect, I must say! I also came across the Obsession palette which had more fun colours like blues, yellows, purples and greens. You guessed right, I just knew I had to order two – the Intensify Eye Shadow Palette and the Obsession Palette. Since I rarely get to use the Obsession Palette and I am more into the Intensify Palette, I'll be talking about it instead. This was my first product from Nuban Beauty and I must confess, I wish I got to know about it earlier.
The Packaging…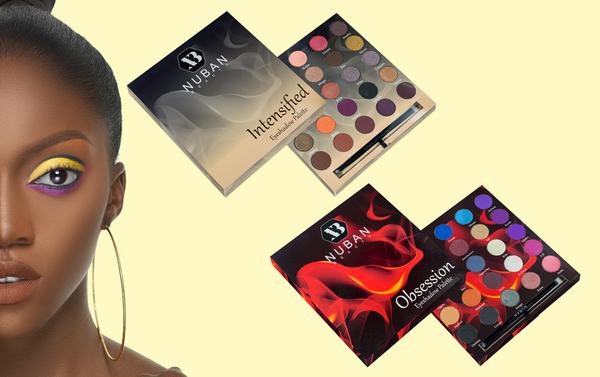 The packaging for me was too cute. It sure has to get all accolades possible. The packaging of this palette speaks one word, Class. The palette comes pretty secured, wrapped in bubble wraps and the palette is sealed in a transparent nylon.
You can be sure of it not breaking or cracking. Give it to them, they got it right. The eyeshadow palette comes with a cartoon cover that contains the branding and information of the product. The palette comes with a mirror and a double-ended eyeshadow brush. Too cute, I must say.
The Price…
For the worth of your money, the size of this palette is quite larger than the ones we are used to. It comes with a large mirror as well to fit practically the whole palette. This literally became my makeup mirror, yes, it is that convenient. The palette comes in 25 Wonders. By wonders, I mean shades with individual names ranging from oranges to browns to pinks and purples, this might just become one of your makeup hacks.
It is comely enough to give you the kind of look you want; basic, fun or loud. The palette contains 7 shades of matte and 18 shades of twinkle. The shades are not only soft to look at, but also soft to the feel. It doesn't just seat on the eyes as other palettes do, it blends easily and is finely milled. Great one, I love really cool colours and if you feel the same way too, then this is for you.
If you find this convincing and you wish to test it out, you can head to their store to make a purchase.
Also, check out some other product reviews, especially one of Zaron cosmetics, you will surely love it.
Xoxo,
💜