Disclaimer: This is not a sponsored post.
I've been using some Nuban Beauty products for some time now, believe me when I say they've checked all my boxes. My current fave is the Wishes Eye Shadow Palette which has a go-to after my Earth palette from Zaron Cosmetics. It wouldn't be fair to be enjoying this good stuff alone, so I thought to share some of my views concerning this.
The Review – Wishes Eye Shadow Palette
I came across this picture on Instagram where a makeup artist I follow had done a face beat for a lady. To be honest, what caught my attention was the eye shadow effect on the muse.
Good thing, she mentioned the name of the palette and I found it in one click! 'Nuban Beauty Wishes 18 color Eyeshadow Palette'. I have previously done a review on the Intensified Eyeshadow Palette (which is great by the way). This palette just seemed to be all I was looking for, for a while now. The colours are just perfect for any look you wish to create; be it a simple everyday makeup look or something loud and fun.
Now the latest addition to my Nuban Beauty Collection Obsession and Intensified palettes, I now have the 'wishes' palette (my sister took my obsession palette by the way) and it's about to be my new obsession. Without further delay, I'll now go into talking about how I feel about this product.
The Packaging…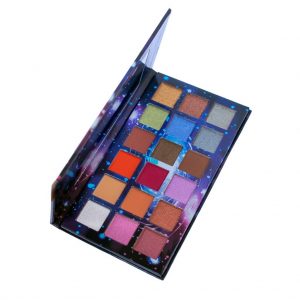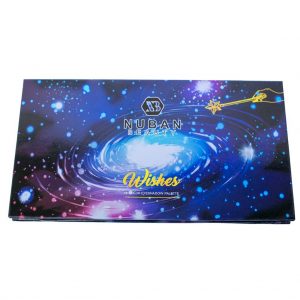 Just look at the pictures above and see how cute the palette is. Reminds me of stars or the galaxy in general…("Wishes" upon a star…I see what you did there Nuban Beauty) The palette is made up of 18 very beautiful colours, 6 matte eyeshadows and 12 duo-chrome metallic eyeshadow. With these colours, you can create both daytime and nighttime looks. One very cool thing about this palette is that it comes with a mirror! this makes it even more convenient to use. we don't see palettes like that very often.
Texture and Pigmentation…
Nuban beauty really outdid themselves with this one. First time I saw a makeup artist friend use their 'Obsession palette, I thought it was the bomb, but you see this wishes palette is even more bomb. The shimmery eyeshadows are really pigmented, so creamy and they have this velvety texture that just feels so good. The matte colours are really smooth and pigmented as well. They have zero to minimal fall outs when applied on the eyes. I love the colours in this palette so much it's difficult to choose a favourite.
The Price…
This current palette is 9,000 (Nigerian naira) but trust me it's worth every penny. You most definitely wouldn't regret buying this palette. Some of the colours in it might just become part of your makeup hacks for an everyday look.
I hope I've been convincing enough to make you want to try out this palette, now you can head to their store to make a purchase.
Also, check out some other product reviews.
Xoxo,
💜